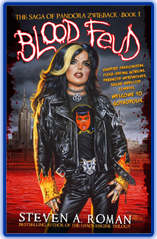 The Saga of Pandora Zwieback chronicles the adventures of sixteen-year-old Pandora Zwieback, a Gothy horror fangirl who possesses amazing powers that she just learned about, including the ability to see past the human disguises worn by monsters to blend in with society. Those powers come in handy when Pan, her parents, and her friends are catapulted into the midst of a war among rival vampire clans in search of what they believe is an ultimate weapon. Pan's story begins in the novel Blood Feud: The Saga of Pandora Zwieback, Book 1, written by Steven A. Roman (that's me), the bestselling author of the novels X-Men: The Chaos Engine Trilogy and Final Destination: Dead Man's Hand.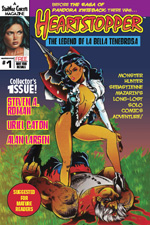 Heartstopper: The Legend of La Bella Tenebrosa is a three-issue comic-book miniseries from 1995, starring Sebastienne "Annie" Mazarin, who currently acts as mentor to Pandora Zwieback in Pan's novel series. Annie is a 400-year-old, shape-shifting monster hunter, and in this mini, published during the height of what became known as comic book's notorious "bad-girl era" It's written by Steven A. Roman (yep, me again) and illustrated by Uriel Caton (JSA Annual #1), Holly Golightly (School Bites), and David C. Matthews (Satin Steele). And best of all, all three issues are available for free download!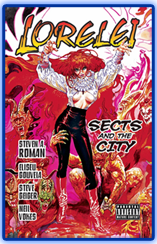 Lorelei: Sects and the City is a mature readers' graphic novel about Lorelei Munro, a flame-haired succubus who uses her soul-stealing powers to target bad guys—like the Elder God worshipers she crosses paths with. The cult wants to revive the former masters of Earth, and if Lori isn't careful she might find herself becoming the latest blood sacrifice instead of humanity's savior. It's written by Steven A. Roman (are you surprised?), and illustrated by Eliseu Gouveia (The Phantom), Steve Geiger (Web of Spider-Man), and Neil Vokes (The Black Forest).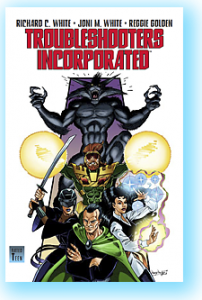 Troubleshooters, Incorporated: Night Stalkings is a general readers' graphic novel about a group of supernatural-superheroes-for-hire taking on their first case. The team consists of a wizard, a female ninja, a sorceress, a werewolf, and a rock 'n' roll lighting designer wearing high-tech armor. Sure, they might not be on a power level with the Avengers or Justice League of America—they're more like superpowered Ghostbusters—but they get the job done. The graphic novel is written by the husband-and-white team of Richard C. White (The Ultimate Hulk) and Joni M. White, and illustrated by Reggie Golden and Randy Zimmerman.
Visit each of the titles' pages for more information, including sales links, sample art, and sample chapters.